Employee Engagement Incentives
Successful organizations use employee engagement incentives and reward programs to help retain and attract high-quality employees. HR departments deploy these programs to motivate, recognize, and retain employees.
No matter the occasion, a little bit of fun in the workplace along with unexpected gifts can boost morale, build team spirit and foster a sense of loyalty to the organization.
Employee engagement is key to maintaining a productive and motivated workforce. Engaged employees are more likely to be satisfied with their jobs, and more likely to contribute to company goals and objectives.
Eliminate waste - Only pay for claimed incentives
WHY USE REWARDS AND INCENTIVES?
Try it! Send sample incentives to yourself or colleagues in minutes. No credit card is required to design and send stunning samples to show how your organization can send rewards to build motivation, increase productivity, and cultivate a sense of loyalty.
Recognizing employees for specific, identifiable actions demonstrates that you appreciate their skills and that the company values them.
Employees stay when they know their work is valued. They quit when managers fail to show employee appreciation.
Showing appreciation for employees exhibits your workplace's values, including respect, fairness, open communication, teamwork, and more.
Employee recognition is a positive way to communicate your high standards for work and your willingness to reward people with similar standards.
Recognizing employee teams builds camaraderie and a spirit of cooperation.
Offering a wide selection of incentives and awards increase the perceived value of the incentive.
The top five most popular gift card choices are Visa, Amazon, Target, Starbucks and Best Buy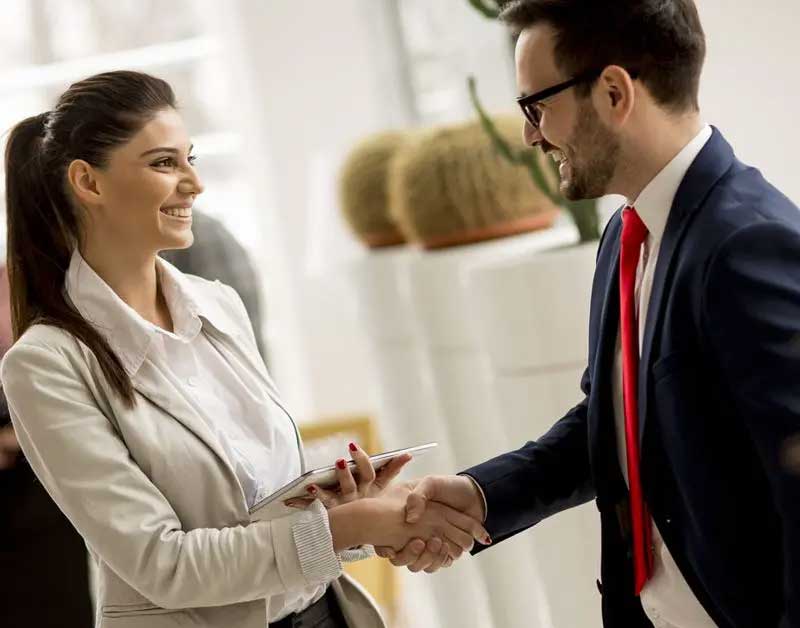 Recognition is not a scarce resource. You can't use it up or run out of it
Three key aspects to sustainable incentive programs
A well thought out system should make managing incentive programs simple. Begin with expertly crafted templates, or unleash your creativity.
Surprise employees! Employees remember actions. It's important that these incentive actions be regular, visible (when appropriate), and memorable.
Curate a small number of incentive choices. Studies show that 6 or fewer choices is ideal for each program
EASY, CAPTIVATING & FLEXIBLE
Simple tools to deliver rewards and incentives in ways that delight your employees.  Features including "Recipients Choice," to make incentives personal and memorable.
For employees, prompt and hassle-free incentive redemption is important. A good experience acknowledges their valuable participation ensuring they feel valued and respected in the process.
Attractive incentive options contribute to employee satisfaction and are important for employee retention. They are one element of a broader employee engagement and retention strategy.
Positive feedback and recognition make employees feel valued. Positive feedback increases camaraderie and makes employees feel supported and valued at work.
Flexibility of choice lets you  offer options ranging from Visa, AMEX, 3,000+ merchant gift cards, local vendors and an incredible selection of physical card options. You get the flexibility to send more than gift cards and have full control over your incentive, message, and delivery.
Flexibility managing delivery gives you control of incentives via SMS, email, or in-person with the ability to resend, edit, or revoke deliveries at any time. 
Spend 20 minutes seeing how TruCentive makes it simple to boost employee recognition with incentives that make employees feel engaged and valued.
We're changing the way incentives are delivered!
Offering employees a choice of incentives and rewards can foster greater engagement and motivation within your organization.
Empowerment
When employees have the option to select their preferred incentives and rewards, they experience a heightened sense of control over their contributions.
Boosted Enthusiasm
Allowing employees to choose incentives or rewards that resonate with them personally increases their motivation to excel in their roles and support the company's success.
Positive Affiliation
Receiving a desired reward creates a stronger positive affiliation with the organization and its initiatives.
Enhanced Perceived Value
Selecting incentives or rewards that align with their preferences increases the perceived value of these offerings to employees.
By providing a variety of incentive choices to your employees, you can create a positive and rewarding work environment, leading to increased motivation, engagement, and a willingness to continue contributing to the company's success.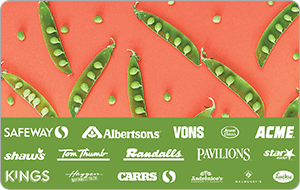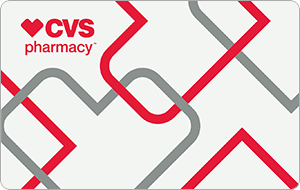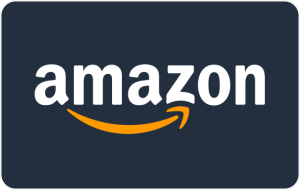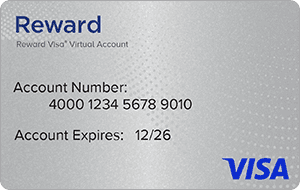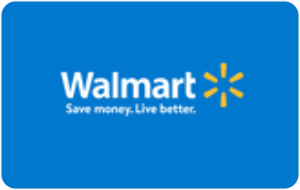 "People work for money but go the extra mile for recognition, praise and rewards."
"Recognition is not a scarce resource. You can't use it up or run out of it."
"... try to catch people in your company doing something right, then praise them for it."
Recognition that delights
Receiving incentives and rewards should be effortless and adaptable to employee preference.
A streamlined and flexible process not only creates a positive experience for the employee but also leaves a lasting impression, improves and contributes to the overall success of your recognition and incentives programs.
You have the option to send incentives and reward choices through email, SMS messages, or in-person delivery, based on what suits your organization best.
Automated reminders assure that employees get the news. Follow up messages may also be sent post-claim to add an extra "thank you."
Day 0 – Initial incentive delivery
Day 1 – Reminder of unclaimed incentive
Day 5 – Reminder of unclaimed incentive
Day 15 –  Additional reminders as needed
A final reminder 5 days prior to the expiration of your incentive offer
Email, SMS, or in-person delivery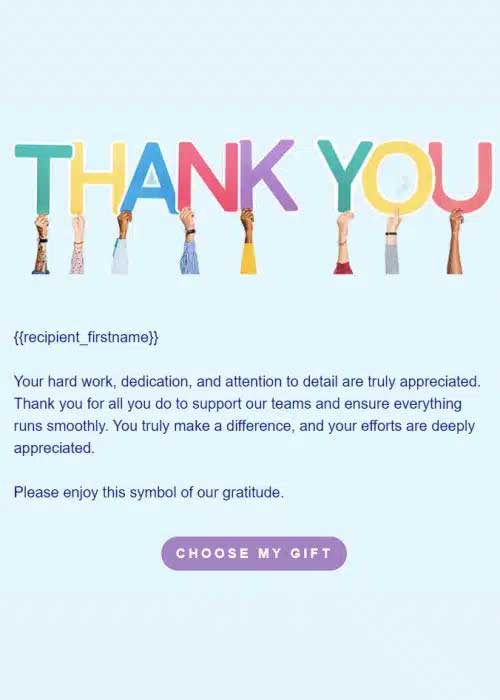 Employee recognition, incentive and reward claim page
A choice of incentives makes the recognition more memorable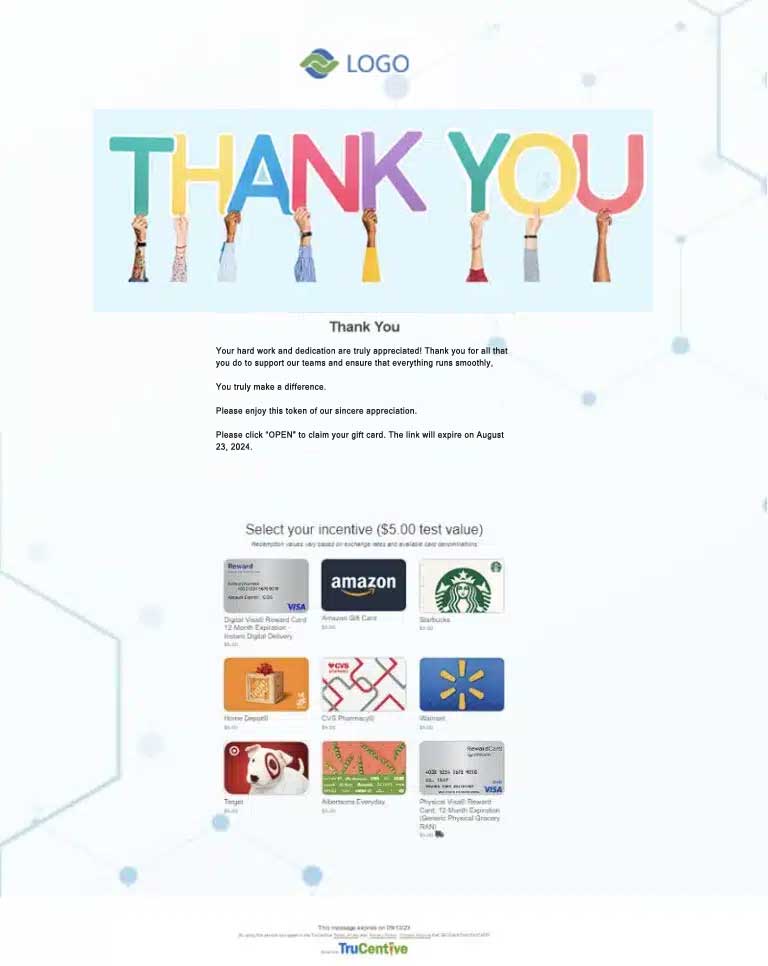 Manager and HR Experience
Convenience & Flexibility
Sending incentives and rewards is uncomplicated, seamless and flexible for manager, administrators and HR personnel.
Complete projects may be shared to facilitate fast, accurate and on-brand sending.
Choose email, SMS message, or printed for in-person delivery, depending on your preference.
Initial incentive award messages are followed up with automated reminders to help assure that participants claim their reward.
Post-claim messages may be used in various ways, including additional thanks to employees
Day 0 – Initial incentive delivery
Day 1 – Reminder of unclaimed incentive
Day 5 – Reminder of unclaimed incentive
Day 15 –  Additional reminders as needed
A final reminder 5 days prior to the expiration of your incentive offer
Incentive and Reward Delivery
Add subjects individually or load a complete list.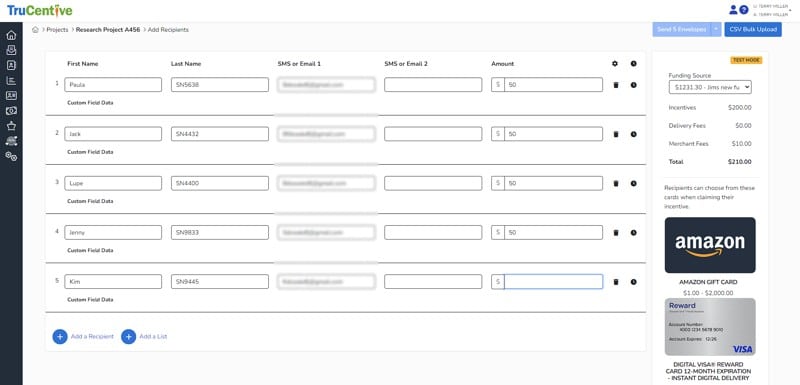 Incentive and Reward Delivery

1. No "canned demo" We want to show you our stuff, but based on your application or interest.
2. No obligation:  It's just a demo! We want to ensure a fit just as much as you do!
3. No credit card:  If you want to sign up, TruCentive is free to try — no credit card is required to send samples.
4. No minimum:  Add a few dollars or a few thousand.
5. No setup fee: We'll spend time with you to design a stunning delivery that makes you and your organization look good.
3,000+ Major Brand Gift Cards – 150 countries
85,000+ Local merchant gift cards
You choose or let your recipient enter their zip code and choose
Pre-Paid Visa & MasterCard cards – Digital and Physical Options
10,000+ Merchandise options – No shipping, no markup
Payments – Deposit to Debit Card – Deposit to Bank Account – PayPal (300+ countries) & Venmo
TruCentive gives you the tools to deliver rewards and incentives in ways that magnify your brand and delight your recipients.
Sign up and try us out! If you would like a setup call after you have had a chance to experiment, no problem
There's no obligation and no credit card to get started sending examples.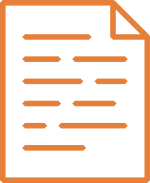 Use powerful features to quickly create professional-looking incentive deliveries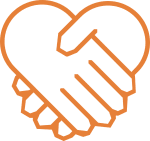 With a TruCentive subscription, you get technical support for all your team members so you can get back to your project fast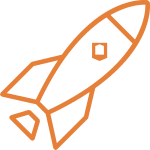 Reimagine your productivity
Eliminate the time and frustration managing the procurement, delivery, and management of your rewards and incentives deliveries