Using Event Gamification to Rock Your Next Event
Six steps to event gamification
Event gamification has soared over the last two years as organizations re-engaged their prospects, customers, and employees with virtual events. Savvy marketers, HR, and sales professionals realized that to assure the success of pandemic-driven virtual events, they needed to recreate the natural excitement generated when attendees are physically together and to counter the external distractions of a remote work environment. These gamification techniques have now become commonplace in events of all types given their positive impact on attendance, engagement, and the overall event experience.
noun
Gamification is the process of integrating game elements into non-game environments (like virtual events!). Games are effective tactics for educating and engaging users.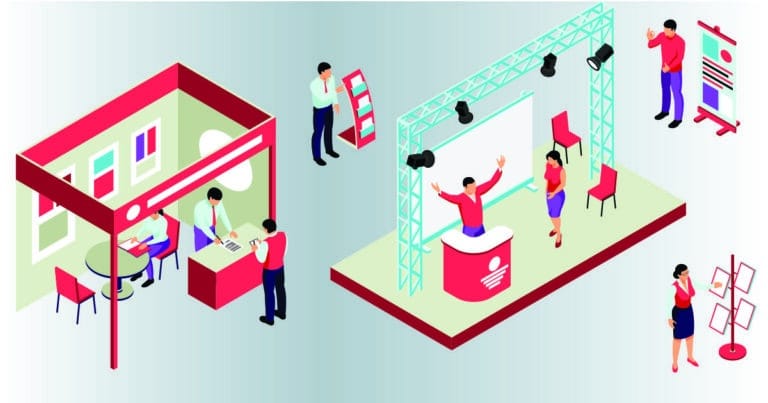 Civilizations and cultures around the world seem to share in the love of playing games. The first board game, Senet, goes back to the early Egyptians. And whether it's problem-solving, collecting curiosity, or strategy-based, gaming brings out the desire to compete in a relaxed environment where participants cooperate or compete as equals. The addition of game theory and rewards to all types of events has given organizations another way to help to transform even the most mundane events into ones that attract and engage attendees.
The key to successful gamification is the alignment goals, e.g., make sure attendees are engaged, and then the behaviors, e.g., attend three breakout sessions, associated with the goals you're trying to influence. With the behaviors in mind, adding a little game theory, and providing incentives to achieve those behaviors is easy. To provide some perspective event goals, we reviewed and ranked the most popular goals based on the projects TruCentive customers implemented for their events:
Delivering a high-quality experience
Increasing attendee engagement
Increasing event productivity – Outcomes
Increasing attendance
Building trust through collaboration
Recognizing speakers & sponsors
Delivering on event goals puts a lot of pressure on event planners and management alike. Gamification gives planners the opportunity to enhance their events at key touchpoints throughout the course of events. Whether it's keynotes, coffee breaks, or educational sessions; breaking down the process into a few simple steps helps identify the most advantageous touchpoints for gamification.
Six steps to gamification
1. Identify and prioritize your event audiences
Define audiences that will be attending, estimate the number in each audience, and rank them in relation to the success metrics for your event. (Attendees, Sponsors, Speakers, Exhibitors, Press, Staff, Management, Donors, Suppliers)
2. Brainstorm potential touchpoints
Audiences have different interests and schedules so the opportunities to excite and keep them engaged also vary. Consider the different touchpoints with each audience; there may be several for some audiences. (Promotion, Registration, keynotes, educational break-out sessions, coffee breaks, lunches, evening mixers) Each touchpoint is an opportunity to use gamification to enhance the quality of your event.
A large telco wanted to make sure their "Five Core Messaging Points" were being absorbed during their keynote. They told the audience there would be a quiz at the end of the keynote. They used a simple online form with five multiple-choice questions. Attendees had five minutes to complete the form. All entries that came in within five minutes and were correct received their choice of a Doordash, Grubhub, or Uber Eats gift card for dinner that evening.
A retail brand wanted to make sure that attendees participated in their educational breakout sessions. They used an online trivia game provider and created several questions that could only be answered via information from answers that could only be learned in the breakouts. A leaderboard was available online throughout the event. The top five winners received Amazon gift cards in various denominations.
3. Set objectives for each touchpoint.
For each touchpoint, identify the objective and desired attendee behavior in terms of presence and participation throughout the course of the event. Most objectives are easy to gamify. For example, if participation in educational breakout sessions is important, identify the behavior, (questions from the audience, answers from the audience, voting, group problem solving, etc.) Your objective may be as simple as getting the seats filled. If so, offer coffee or some other treat for those who show up on time. While not much of a game, well-received sessions start on time!
An industrial supply company had difficulty getting participation in educational sessions at employee events. They decided to reward the top five questions from their employee audience. Given that the event was virtual, the moderator picked the top five, and then the audience voted via a poll on Microsoft teams to determine the ranking and winners. All five received a gift card of their choice ranging from $50 to $250 based on the audience ranking. This not only provided engagement from the Q&A process but also the voting process. It provided valuable insight to which question/issue was most important to the audience.
4. Gamify the objectives
Now the fun begins. Adding a little excitement is easy, but driving that competitive spirit really drives enjoyment and engagement. Gamification can be added to almost any activity. Whether it is event-wide or specific activities. Here are some considerations when planning the gamification of an objective:
Clearly define the goal and process – transparency
Assure inclusion – all participants should have the ability to win
Make it challenging – create a sense of achievement
 Engender friendly competition
Specific objective that directly relates to the success of the event
Surprise and delight! – Give larger/more rewards or consolation prizes
5. Set incentive and reward values & options
Incentive Research Foundation, in 2021 gift cards will see the use of gift cards will increase by 33% as merchandise wanes. Gift cards are one of the easiest and most desired rewards for gamified events. They're easily delivered instantly via SMS, email, or messaging app. (link to claim incentive) The value should be aligned with the "Ask" ie the task or behavior you are incentivizing and the person receiving the incentive. A simple task may suggest coffee, lunch, or a sweet treat. More important behaviors should include greater value options; amazon, fine dining, or for virtual events you may want to suggest and promote a reward item but provide flexible delivery options. Use Door dash, Grub Hub, or Uber eats card for food deliveries, and Amazon or Visa/Mastercard to provide options for gift items. You may also want to vary their value based on the recipient. You may want to increase the value for key influencers or customers.
When setting your budget, make sure to consider that on average 20-25% of all incentives are never claimed. With TruCentive, the value of the incentive delivered is automatically returned to your account if it is not claimed after the expiration period you set. This increases the available incentive pool while improving the overall ROI of your gamification and rewards strategy.
More ideas:
Consider incentive themes for your event or audiences: sporting/outdoor, Fine dining, Tech, or Home improvement (Bed bath and beyond, Lowes, Home Depot)
Give recipients choice. A single card is great, but providing a selection lets the recipient choose the option that will delight them the most. (Note: studies show that too many options may reduce post-choice satisfaction. Six or fewer choices typically most effective)
Deliver as quickly as possible. If a project is created for each touchpoint, invite the person responsible for that event so they can enter the recipients' email or phone number on the spot. Note that projects can have specific funding amounts dedicated to a project so you can keep each touchpoint in budget.
Include your brand, event brand, and images and messaging directly related to each activity.
Set up reminders. Many attendees may be too busy at your event to claim their reward or incentive immediately. Reminders let you continually reinforce your message your brand, and their achievement. Multiple reminders benefit you and the recipient
Add an additional call to action. You may add additional buttons to both your redemption page and/or your post redemption email/SMS thanking the attendee for participation AND asking for additional action: Review the session, review the event, provide feedback rewards, suggest a date for the next event. 
6. Delivery Strategy
The delivery of your incentive plays an important role in the overall experience. To maximize excitement and drive engagement, deliver via email or SMS as quickly as possible, highlight your brand, your event brand, as well as any key messaging. Note that your incentive delivery is a great time to add additional calls to action, for example, it's a great time to get a review of your event. Finally, determine who will identify recipients, collect information, and deliver their rewards. It can be as simple as logging in and adding recipients to a project for that touchpoint on the spot or emailing a list to a designated person for delivery.
Use SMS delivery of incentives in addition to email. SMS feels more personal and more urgent. Adding the collection of mobile numbers to your delivery strategy is good for the recipient and great for your sales team. After a recipient has claimed their reward or incentive, automate a final email to thank them for their participation.
Adding a little competitive delight keeps attendees engaged and helps prevent "turn on and tune out" syndrome during any type of event. Here are some more ideas to help you deliver a high-quality experience at your next event:
Early promotion including speakers, keynotes, amenities, and gamification elements builds excitement early gets attendees "pre-event engaged". If expectations are high, attendees are more likely to allocate time and pre-select how they spend that time.
Use calendar invites for selected sessions make sure time slots don't fill with non-event meetings.
Offer rewards for early registration. Remember, discounts don't usually benefit the attendee. Consider using gift cards that will benefit the attendee but make sure they are related to the event. Coffee for the keynote, or premium value gift cards for lunches are a great way to let the attendee splurge.
Add incentives for posting on social media that they will be attending. This is one of the easiest ways to broaden your audience with like-minded individuals is through attendees.
If you expect attendees to participate during breakfast, lunch, or dinner, give them a choice of Door dash, Grub hub, or Uber eats, gift cards. Amounts can vary depending on the audience. For the evening virtual mixers, provide the same for their evening cocktail or mocktail. Have participants share their drink give and announce rewards for the most creative, elaborate, sophisticated.
Don't forget your speakers. Provide dinner the evening before their keynote and a thank you post engagement.
Go international. Don't forget your out-of-country teams. There are a wide variety of international card options. As a backup, you can use a Visa/Mastercard or use a company store gift card. All can be sent digitally.
Announce rewards and incentives on your event chat platform
Expand event awareness by rewarding posts or Photos on social media, share them with your attendees on your event social or chat channels
Incentivize attendance (Keynotes, breakout sessions, mixers, 1:1, meetings, checking into locations, online courses)
Reward networking and/or meetings
Include incentives for trust and collaboration participation

Team building exercises
Problem-solving
Teaching
Introducing someone
Storytelling – Childhood story
Meeting someone new
Participating in problem-solving sessions

Increasing engagement and productivity

Educational session quizzes
Understanding content
Adoption or signup of a new tool