Sales and Channel Incentives and Rewards
Sales and channel incentives and rewards are strategies and programs designed to motivate and reward channel partners, sales teams, distributors, and dealers for achieving specific sales or performance goals.
Getting channel attention is difficult. Getting salespeople to keep your solution top of mind is a challenge.
Incentives and rewards can go a long way to getting channel attention, boosting sales, driving channel loyalty, and achieving business objectives. 
Programs based on incentives are effective, exciting and easy to communicate.
The goal is to create a win-win situation where the folks being rewarded are motivated to drive sales and achieve desired outcomes, ultimately benefiting both the participants and the organization.
Eliminate waste - Only pay for claimed incentives and rewards
WHAT ARE SALES & CHANNEL INCENTIVE PROGRAMS?
Try it! Send sample incentives to yourself or partners in minutes. No credit card is required to design and send stunning samples to show your partners how you can employ incentives to help build their sales pipelines and contribute to mutual success.
Incentives Boost Sales Channel Success
Incorporating incentives and rewards into your sales and partner programs can be an effective strategy to boost sales and encourage sales representatives to engage in selling your products.
Loyalty programs reward channel sales reps with incentives after achieving a specific number of demo sales calls or reaching certain milestones.
Build programs to attract prospects and deliver leads to partners or your own sales team using incentive programs for prospects.
Provide your sales team access to gift cards for enticing prospects to schedule and participate in product demonstrations and meetings.
Highlight and reward the top-performing sales and partner sales representatives each month or quarter through announcements, and gift cards.
Offer incentives and rewards to partner sales reps who complete product training or certification programs.
Organize regular sales contests with attractive gift and incentive prizes for the top-performing sales reps.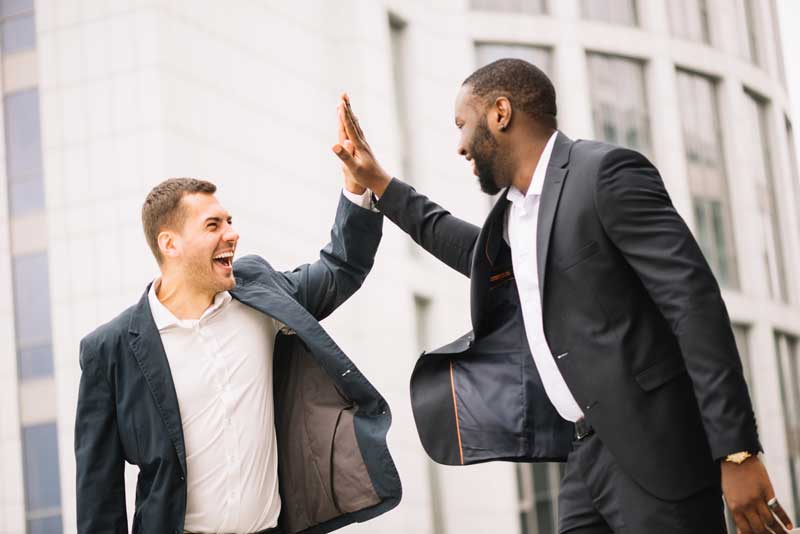 Sales is an outcome, not a goal. It's a function of doing numerous things right, starting from the moment you target a potential prospect until you finalize the deal.
Three key aspects to sales and channel incentive programs
Customize incentives to match your audience's preferences. Offer a choice of incentives for maximum value. Consider you sales team and partners' sales team interests, and motivations when choosing rewards.
2. Effective Communication and Promotion
Don't over-complicate your incentive program. The easier you make it to sell your product and complete your incentive program the better. Communicate to ensure participants understand the program's benefits, rules, and how to participate, ensuring engagement and enthusiasm among the target audience.
Clearly defined and measurable objectives are crucial for the success of sales and channel incentive programs, whether it's improving the lead pipeline, expanding market share, or increasing sales.
EFFECTIVE, RELEVANT & REWARDING
Sales and channel programs can boost sales by sales personnel with attractive offers and incentives.
Incentives motivate sales reps to lead with your solutions, help you introduce new products, and increase sales.
Offering a variety of incentives on a regular basis can keep the experience fresh and exciting.
Incentives should be relevant and of proper scale to excite sales folks and keep you top of mind.
Tailor your incentives to the needs and preferences of your target audience.
TruCentive provides an easy means for recipients to select their most relevant incentive from a list of offerings that you curate.
Consistency in delivering a positive customer experience is equally important of course.
Incentives should be seen as an extra incentive for meeting sales targets or fulfilling other target actions like the number of demos. 
Spend 20 minutes seeing how TruCentive makes it easy to excite sales and partner sales teams using incentives that make your channel partners feel valued and appreciated.
We're changing the way incentives are delivered!
Incentives increase visibility
Offering sales teams and partners a fun choice of incentives and rewards keeps you top of mind with your partners, build partner loyalty, and help close deals.
Empowerment
When partner sales reps have the option to select their preferred incentives and rewards, they appreciate them more.
Boosted Enthusiasm
Allowing partner sales reps to choose incentives or rewards can resonate with them personally and increase their motivation to offer your solutions and help in  your the company's success.
Authentic
Sincere thanks aren't solely motivated by profit. Authenticity builds trust and long-term relationships. Consider having the incentive come from the partner and account services team or support team that has the strongest relationship with the partner. 
Enhanced Perceived Value
By providing a variety of incentive choices, you can create a positive experience, leading to higher recollection, engagement, and satisfaction.
Incentives and rewards that align with partner preferences increases the perceived value and memorability of the gesture.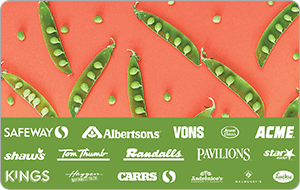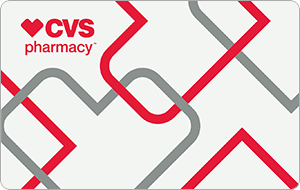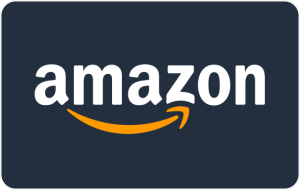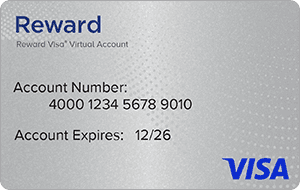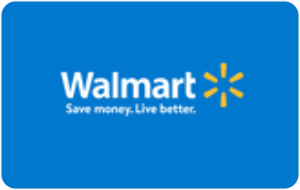 "If everyone is moving forward together, then success takes care of itself."
"The channel is viewed as an ally, and a new way to go to market that adds value so that the both parties can win"
"Building successful channel partners requires that we understand their business models.."
Recognition that delights
Receiving incentives and rewards should be effortless.
A streamlined and flexible process not only creates a positive experience for your sales people, partners and their prospects but also leaves a lasting impression.
You have the option to send incentives and reward choices through email, SMS messages, or in-person delivery, based on what suits your organization best.
Automated reminders assure that recipients get the news. Follow up messages may also be sent Post-claim to add an extra "thank you."
Day 0 – Initial incentive delivery
Day 1 – Reminder of unclaimed incentive
Day 5 – Reminder of unclaimed incentive
Day 15 –  Additional reminders as needed
A final reminder 5 days prior to the expiration of your incentive offer
Email, SMS, or in-person delivery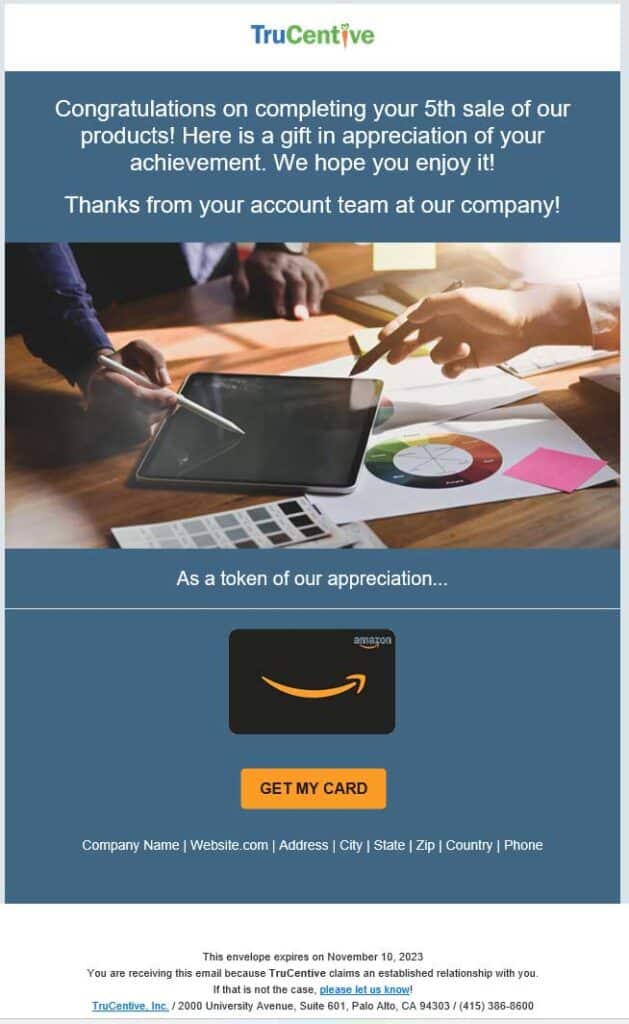 Partner recognition, incentive and reward claim page
A choice of incentives makes the recognition more memorable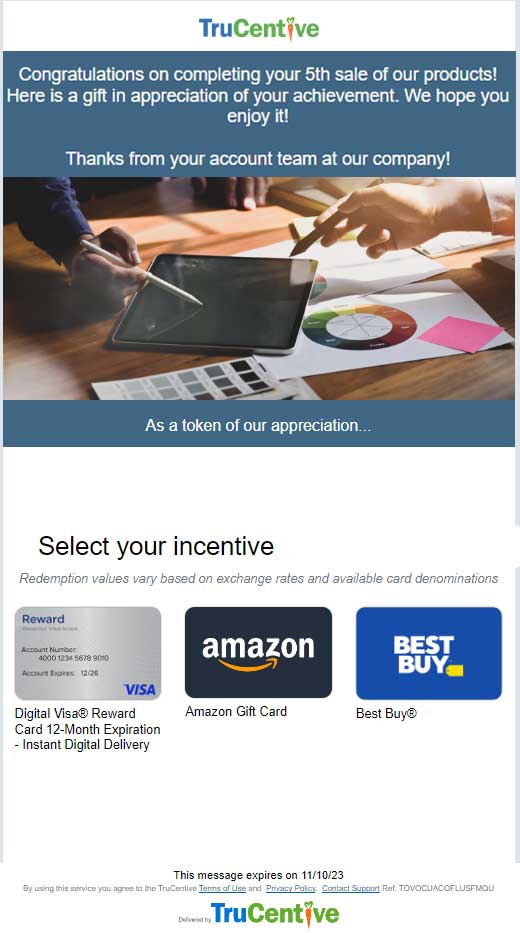 Convenience & Flexibility
Sending incentives and rewards is uncomplicated, seamless and flexible for manager, administrators and channel personnel.
Complete projects may be shared to facilitate fast, accurate and on-brand sending.
Choose email, SMS message, or printed for in-person delivery, depending on your preference.
Initial incentive award messages are followed up with automated reminders to help assure that participants claim their reward.
Post-claim messages may be used in various ways, including additional thanks to employees
Day 0 – Initial incentive delivery
Day 1 – Reminder of unclaimed incentive
Day 5 – Reminder of unclaimed incentive
Day 15 –  Additional reminders as needed
A final reminder 5 days prior to the expiration of your incentive offer
Incentive and Reward Delivery
Add subjects individually or load a complete list.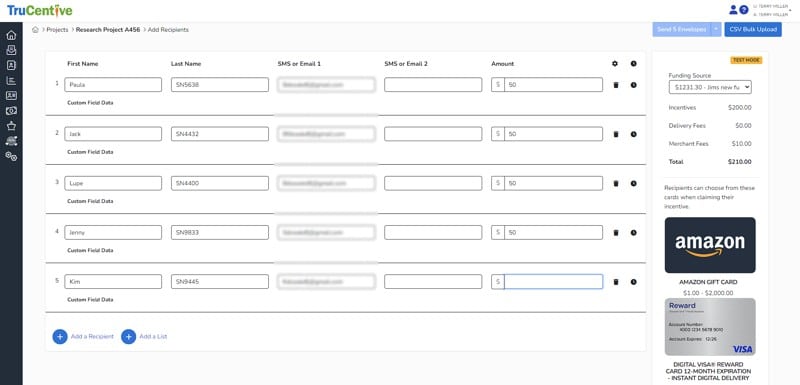 Incentive and Reward Delivery

1. No "canned demo" We want to show you our stuff, but based on your application or interest.
2. No obligation:  It's just a demo! We want to ensure a fit just as much as you do!
3. No credit card:  If you want to sign up, TruCentive is free to try — no credit card is required to send samples.
4. No minimum:  Add a few dollars or a few thousand.
5. No setup fee: We'll spend time with you to design a stunning delivery that makes you and your organization look good.
3,000+ Major Brand Gift Cards – 150 countries
85,000+ Local merchant gift cards
You choose or let your recipient enter their zip code and choose
Pre-Paid Visa & MasterCard cards – Digital and Physical Options
10,000+ Merchandise options – No shipping, no markup
Payments – Deposit to Debit Card – Deposit to Bank Account – PayPal (300+ countries) & Venmo
TruCentive gives you the tools to deliver rewards and incentives in ways that magnify your brand and delight your recipients.
Sign up and try us out! If you would like a setup call after you have had a chance to experiment, no problem
There's no obligation and no credit card to get started sending examples.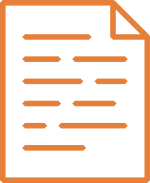 Use powerful features to quickly create professional-looking incentive deliveries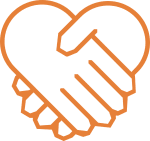 With a TruCentive subscription, you get technical support for all your team members so you can get back to your project fast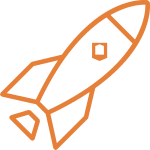 Reimagine your productivity
Eliminate the time and frustration managing the procurement, delivery, and management of your rewards and incentives deliveries